"What if we created an environment that was only about listening?"
This was the question that Anglican youth workers in Charleston, South Carolina asked themselves as they started to collaborate on an event for local students who may not show up to "regular" church events. The result was the "Big Q Barbeque"—an event with 125 people that was supported in part by the Champion Grant and led by six different youth ministries. Hosted at a local park with good barbeque provided, this free event let students ask questions on the full spectrum of sacred to silly, ranging from "In theory, could Satan be forgiven?" to "Do you know the muffin man?" A giant cut-out question mark captured all of these as students wrote them down.
Part of the genesis of this event came from a presentation from Jordan Biere in which he shared, "Listening is so close to being loved that it's almost indistinguishable." The goal of the event was to first listen well to the needs and questions of young people in their community and then to take time to respond. In addition to practicing hospitality and listening, this event included testimonies from two high school students about a time when they had a big question about God, life, or faith. One student shared honestly about doubt and then personally experiencing the presence of God. Another student shared about the question, "Am I enough?" She found an answer to her question when she talked to others about it and then experienced love from the Body of Christ to show her that she is enough.
"At the end of the day, we could have had any number of theologians there to answer questions, but by far the most Lord-honoring thing we had was our high schoolers sharing and creating space for other students to show up and bring their questions."
As these student ministry leaders look ahead and follow-up on this event, they're most focused on the questions that students wrote down. Hunter Myers, one of the leaders of the Big Q Barbeque shared, "That's now a running list and I've asked our Bishop if he would record two or three responses to some of the questions for us to share on social media… So that we can demonstrate slowly that we heard them, and we take them seriously." By beginning with listening to students, these leaders are able to plan studies and create spaces around the questions that young people are really asking.
Hunter shared that what made the event successful wasn't the number of people who showed up or the weather clearing up just in time for their event. What made the event successful was the way they were able to listen well. He said, "It is a holy thing to invite someone to share where they really are and I am thankful for leaders on my team who, as I shared the questions with them, their first response was, 'we need to take this seriously.'… If we really want to listen, that's a deeper discipline." As we seek to form every generation in Christ, may we also listen well to others.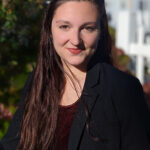 Anna Burden
Coordinator for Student Leadership Network
Anna Burden grew up in the church and has felt called to student ministry since she was in seventh grade. She studied Youth Ministry at Eastern University and has experience working with churches and student ministries of various sizes. Anna and her husband, Colin, now live in Quincy, MA with their two cats. She works for the Anglican Diocese in New England as their Family Ministry Assistant. Anna is passionate about helping young people discover their identity
in Christ, their belonging in the family of God, and their gifts for Kingdom purposes.