Antioch
The vision of the Antioch Leadership Network is to increase the ethnic diversity of clergy of the ACNA for the sake of evangelism to all and authentic gospel witness.
The church in Antioch, a thriving center of early Christianity whose witness continues to this day, is well known for its evangelistic fervor. It was the place where the followers of Christ were first called Christians (Acts 11:26), and the sending church of the Apostle Paul (Acts 13:1–2). It was also a church with diverse leadership. Luke tells us that the leadership was comprised of Black Africans, North Africans, and Jewish converts to Christianity. In short, the diversity of the leadership reflected the diverse Roman Empire that they had been called to evangelize. We believe that God is calling for a diverse gathering of clergy and lay leaders to help the Anglican Church in North America (ACNA) in the work of reaching North America through the transforming love of Christ.
The Scriptures also tell us that when Jesus returns in glory, various ethnicities will be gathered around his throne in worship (Revelation 7:9). This gathering of the nations under the one God of Israel fulfills God's promise that he would bless the world through Abraham's offspring, the Messiah Jesus (Genesis 12:3; Galatians 3:16). We are blessed in North America to have many of the nations gathered in our neighborhoods, universities, and cities. We have a tremendous opportunity to embody the universal saving power of the gospel through the creation of more diverse churches and dioceses that reflect the diversity of our rapidly shifting society.
With that being said, for a variety of historical reasons, the ordained leadership of the ACNA lacks ethnic diversity. This lack of diversity hinders our province's evangelistic imperative. Remedying this situation will require prayer and intentional plans for expanding our clerical leadership so that it includes diverse voices with unique insight on what it means to reach a changing world.
One difficulty for ethnic minorities interested in joining the ACNA is isolation. They may be the only ethnic minority in their diocese, and they may not have access to mentors who understand the difficulties of being a minority clergyperson in a mostly white denomination. Another challenge that afflicts all clergy considering ordination is their ordination job prospects. It becomes an even more significant burden for ethnic minority clergy who may have fears that no parish will hire them. To solve these and other problems, we are proposing the following Antioch Pilot programs with partnering dioceses.
Now in the church at Antioch there were prophets and teachers: Barnabas, Simeon called Niger, Lucius of Cyrene, Manaen (who had been brought up with Herod the tetrarch) and Saul. While they were worshiping the Lord and fasting, the Holy Spirit said, "Set apart for me Barnabas and Saul for the work to which I have called them." (Acts 13:1–2)
The Vetting Process
NGLI has initial vetting responsibilities (prescreening, formal application, and interview).
If an applicant comes from within a diocese, initial vetting can occur at the diocesan level.
The Ordination Process
Diocese and Curate will be matched by mutual agreement.
Partnering dioceses must be willing to partner in creative ways with Anglican and non-Anglican churches to help applicants discern a call.
Partnering dioceses will work with Antioch Clergy Initiative (ACI) to ensure ethnic minority applicants have a clear progression from applicant to the permanent diaconate or priesthood.
Diocese pays for curate's participation in annual retreats with another ethnic minority clergy throughout the process.
Late in the Process/Ordination
Dioceses agree to create funded curacies (2–3 years), leading to opportunities for either church plants or parish ministry in the diocese upon satisfactory completion of the program.
Mentoring
Applicants will enter the process as a part of cohorts and will be paired with clergy mentors who will support them through the process.
There will be an annual retreat and quarterly zoom meetings for prayer and encouragement.
Mentoring clergy will check in at least monthly with aspiring clergy.
Recruitment
The Next Generation Leadership Team will recruit potential clergy and introduce them to a participating diocese
Any diocese can include their ethnic minorities clergy in the program
There will be a website and an application process that allows other qualified curates to apply
Diocesan Training
The diocesan leadership and the churches receiving curates agree to work with NGL on multi-ethnic ministry training including:
Intentional training on multi-ethnic ministry through reading materials related to a multi-ethnic and ethnic-specific ministry
Invite speakers to diocesan events who can address issues related to God's vision for multi-ethnicity and practical tools for organizational change
Attending retreats/conferences on multi-ethnicity (through consultation with NextGen Leadership Team)
Eligibility
45 years and younger
Member of an underrepresented ethnic group in the ACNA
Regular church attendance of at least three years
Experience in leading local or parachurch ministry
Degree in theology preferred
Willingness to receive training in Anglican theological distinctive during the ordination process
Willingness to relocate for curacies or church plants
Expected Outcome
We hope the upcoming Pilot cohort will consist of between 5–10 members. 
If you are interested in The Antioch Leadership Network, please click the button below and fill out the form with your contact details.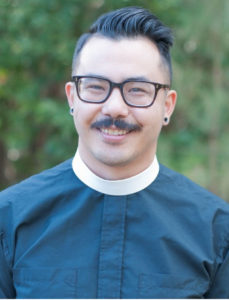 The Rev. Taylor Ishii, Director
Rev. Taylor Ishii grew up in the church but has called the Anglican Church his home since college. He is a graduate of Wheaton College and Fuller Theological Seminary. Taylor has worked at Anglican churches of all sizes, from church plants to large congregations and everything in between. He currently serves as the Director of Student Ministry and Assisting Clergy at Church of the Apostles in Fairhope, Alabama. Taylor is passionate about equipping the next generation of ethnically diverse leaders for the Anglican Church and coming alongside dioceses and congregations who want to reach all nations and people groups in their community with the gospel. Taylor is a leader in the Anglican Multiethnic Network (AMEN) and a leader in a local group of churches working towards Christ-centered racial reconciliation through the church in South Alabama.