ACCESS LEADERSHIP NETWORK
The AcLN Resource team connects people and shares resources to support the church's ministry with and by people with disabilities to facilitate Christian community among the body of believers, growing and serving together.
Access ACNA – Slack group
If you care about disability ministry within the ACNA, please email Kathy Ayres to join the Slack workspace to share resources and build a network of support. You are not alone!
We welcome:
 people with disabilities who want to be more active in their local parish.
people who are doing ministry. You may not have a dedicated disability ministry, but you likely have students and parishioners with apparent and non-apparent disabilities within your church.
people who are family members of people with disabilities.
We want to build a network and work together for God's kingdom and to his glory!
"To teach is to come alongside another, in the power of the Spirit and in the company of the faithful, to seek an encounter together with the Truth: taking aim to perceive it more clearly, consider it more critically, embrace it more passionately, obey it more faithfully, and embody it with greater integrity."
(Parrett and Kang's proposed definition of teaching for Christians, p 277)
Book Resources on Disability Theology and Faith Formation
Easily accessible for both lay leaders and clergy (shorter books)
More dense theological material
More focus on individuals with mental health challenges and dementia
More educational & historical reading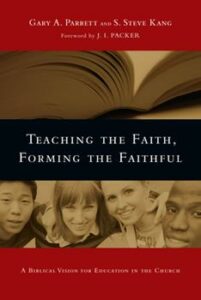 By S. Steve Kang and Gary A. Parrett